Personalized Christian Tours to Israel
Booking a tour with the most committed, competent, and experienced tour operator for Christian Tours to Israel is within your reach. So get ready for a trip of a lifetime as you follow in Jesus' footsteps through Jerusalem, Galilee, Bethlehem, and beyond. Local guides who are well-versed in the religious, political, cultural, and geographical background of Israel lead all of our Tours to Israel.
This is a pilgrimage to the Holy Land, which is specifically geared towards highlighting all the major sites that are important to Christians, given that Israel is so rich in biblical sites and ancient history. Our Holy Land itineraries include visits to several different locations in Israel. Learn about history and the Bible on a "once in a lifetime" trip to the holy land. You can visit Israel on a pilgrimage to experience the country in all its glory. People take Christian Tours to Israel to learn about their faith and reconnect with their ancestors' homeland. It also allows us to visit the locations described in the Bible and other historical texts for ourselves.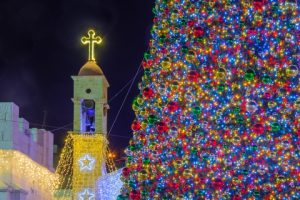 Personalized Christian itineraries covering every base. Jerusalem, Bethlehem, Nazareth, the Sea of Galilee, Yardenit on the Jordan, Masada, the Dead Sea, Caesarea, Haifa, Rosh Hanikra, Akko, Jericho, and more are all included in our Christian tour packages around Israel. We can accommodate individuals, families, and large groups on our Christian tours to Israel.
The written word has given way to mystical and spiritual encounters. Educating people about the Bible requires them to have experiences like visiting the Holy Land, where one can form a personal tie with the land and better understand the Bible and its relevance to one's own life.
In addition, Christian Tours to Israel will give you a taste of modern Israel and a broad understanding of the historical and political forces that created and sustain the State of Israel.  You will learn about modern life as a Christian living in Israel, and as you visit the sights, you will be given an opportunity to interact with the residents from different walks of life. 
Join us and book your place on one of our Christian Tours to Israel. This is an ideal way to experience the Holy Land.  You won't look back!